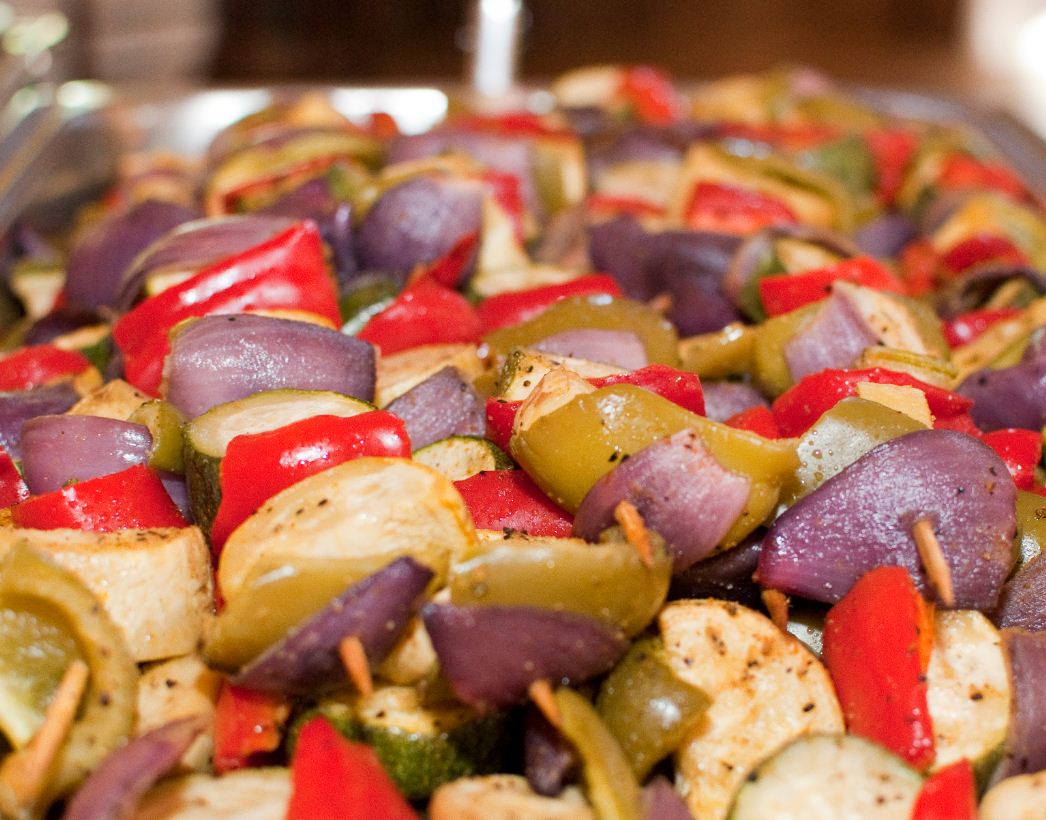 Vegetarians Can Eat Pok-e-Jo's?
Yes, Pok-e-Jo's is a BBQ place.
But we are also in Austin, and that means that when you're feeding a large group, some of those people are going to need something other than some delicious smoked meats, and some can't have the bread that goes along with it. That's right, we're talking about vegetarians and gluten free folks. And even if we are a meat company, we welcome you at our events, herbivores. Come on over to our buffet, gluten-be-goners. We're going to take care of you.
Our most popular vegetarian entree item is our smoked veggie skewers (pictured above). These are seasonal vegetables that we skewer up, marinate, and smoke until they're so tasty that your meat eaters will be trying to swipe them. We often do these as a straight swap for the meat portion for your vegetarian guests, making it really easy to get your order in. Just tell us how many people in your group are vegetarians, and we take it from there.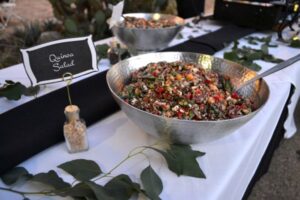 Want to go a different direction than the skewers for your vegetarians? We can hit you with our house made quinoa salad. This item has been a favorite on weddings and full service events, but that doesn't mean you can't do it for your office. Just make the request when you place your order and you'll see why we're so proud of this one.
Want to do salads for your vegetarians? We got you. How about baked potatoes? Sure thing. They just want a bunch of our sides? We don't blame them, they're great. The point is, vegetarians have options with us. And we're a BBQ place. Boom.
If you have gluten free members of your crowd, we make things easy on you too. Our meats are gluten free, our BBQ sauce is gluten free, and 7 of our 13 sides are gluten free, so you have lots of great options to keep your gluten free friends/co-workers/guests fed and happy.
We just want you to remember, no matter the diet restrictions you have in your group, we can help you out, and make it easy on you to boot! No need to call multiple places and deal with multiple vendors; Pok-e-Jo's is here for you, vegetarians, those who are gluten free.