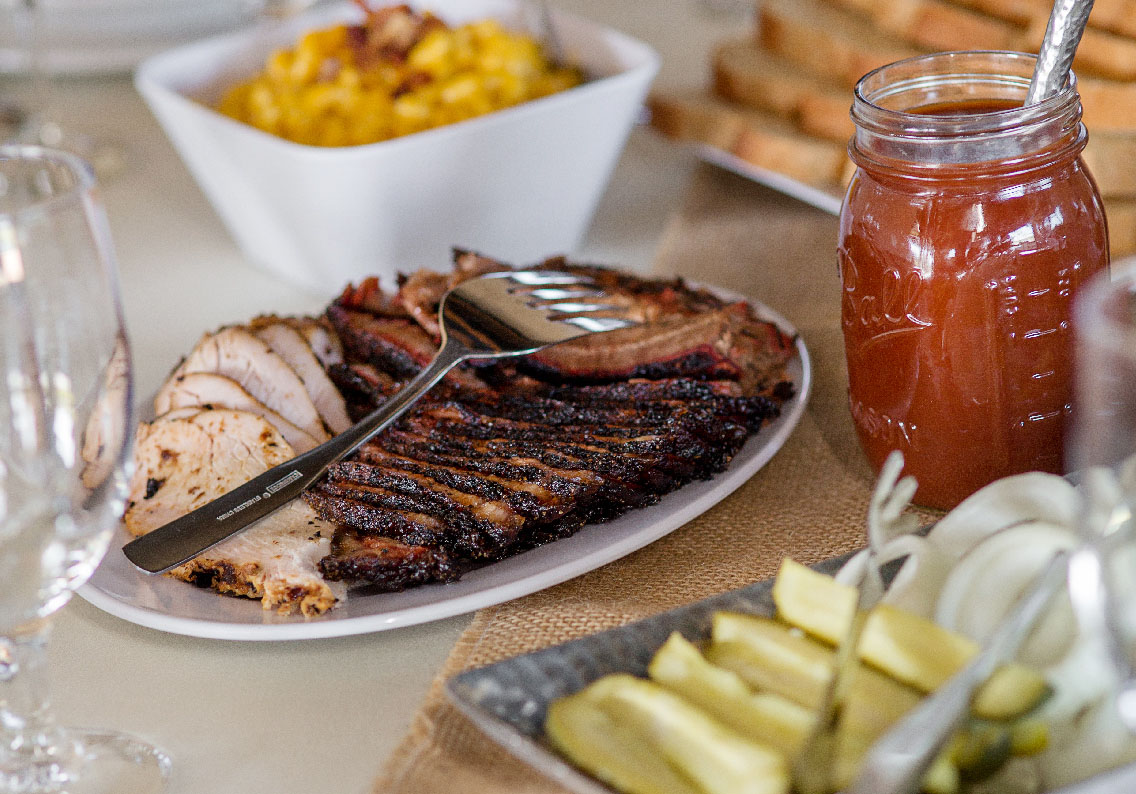 Catering Near Me for Wedding in Austin
You know what happens during the holidays? People do crazy things like buy diamond rings and give them to their girlfriends so they can get married. Then they tell their parents the good news at New Years.
You know what else that means? Lots of parents and brides-to-be start searching on their phones for catering near me for wedding in Austin, because it's time to rent a facility and find a caterer.
That's where Pok-e-Jo's comes in. If you're lucky enough to land on Pok-e-Jo's when you do your innerweb hunting, you'll be taken care of in grand style. Pok-e-Jo's is just about the most experienced catering company in Austin. That means they've seen more than a few wedding days and parties come and go, and they've made sure that after a couple gets hitched, things run effortlessly at the party.
Pok-e-Jo's is known for barbeque so we might as well start there. If it's a BBQ wedding you want, then Pok-e-Jo's can make sure it's a BBQ wedding you get. You find the facility, or cabin or barn or park, and we'll bring the party. Pok-e-Jo's will load up the vans, bringing everything you need for the party – brisket, spicy pork sausage, chopped beef for sandwiches, spicy Texas pulled pork for more sandwiches, turkey breast, chicken, and mounds of ribs.
With Pok-e-Jo's catering you also get some of the most unique side items you can find at a BBQ joint-turned catering phenomenon. Pok-e-Jo's has jalapeño cornbread casserole, baked potato casserole, green bean casserole, hot mac 'n cheese, Texas fries, pinto beans, potato salad, even fresh sautéed vegetables. The list goes on and on. They've also got the perfect dessert to follow up wedding cake – peach or cherry cobbler.
Pok-e-Jo's offers more than barbeque. From shrimp to steak to pork loin to pasta, Pok-e-Jo's offers an entire suite of wedding catering options. Just give 'em a call and build the reception menu of your dreams. It starts by calling the Wedding Catering Hotline at (512) 388-7578… Yes, we have a hotline for wedding catering. We have a Wedding Specialist ready to work with you and take care of all your needs. If you're looking for catering near me for wedding in Austin, Pok-e-Jo's will make you the happiest couple in town.
So, go ahead. Make your way to a local Austin jeweler, drop 3-month's salary for a diamond ring, have that wedding, and we'll bring you some ribs.