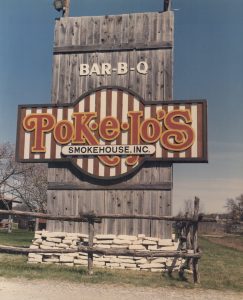 PoK-e-Jo's…That's a Weird Name
We're under no illusions or false pretenses. Pok-e-Jo's is kind of a weird name. And some of the origin of the name remains a mystery, even to our owners! For instance, why is there no second 'e' after the 'Jo'? What is with all of the dashes? I'm not sure we'll ever know.
Here is what we do know: of the three original Pok-e-Jo's owners, Porky Haberman, Joe Slaton, and Doug Bohne, only Porky and Joe's names were used in forming the restaurant name. It stands to reason that Pok-e-Jo-Dug's just didn't sound good to them. I can't imagine why.
To help us make sense of it all, our current owner Danny Haberman, son of original Pok-e-Jo's owner Porky Haberman, had this to say about where the origin of one of the most recognizable and unique names in Central Texas BBQ:
"If I recall I believe there were some cold beers involved, but after some serious debate, Porky-Jo's just didn't roll off the tongue quite like Pok-e-Jo's"
Shortening names by one letter. Adding in dashes. Sounds like "some cold beers" may have been an understatement! But regardless, our funky name has worked for us, and has led to a lot of happy and satisfied stomachs since 1979.
So here's to the original owners; long live Pok-e-Jo-Dug's!