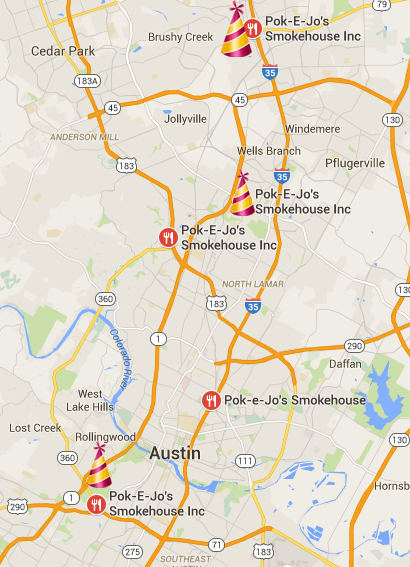 PoK-e-Jo's Has Places to Party
Do you have a special event coming up? Maybe a graduation party, or perhaps a company luncheon or get together of a social club? Well hopefully by now you know about the delicious catering that Pok-e-Jo's has, but did you know that some of our locations also have a private space for your gatherings?
Whether you're looking for a catered barbecue or fajita buffet in our private room or to go through the restaurant line and have a bigger variety for your party, we have a service style that can fit your needs.
Yes it's true. If you're looking in South Austin, our Brodie Oaks location has a party room that seats roughly 30. Call us at 512-440-0447 to inquire about availability.
For those of you in North Austin, come on over to our Parmer Lane spot for your shindig of 40 or less. Call us at 512-491-0434 to inquire about availability.
And if you're looking for some more northern exposure, why not check out our Round Rock store for a party of roughly 35. Call us at 512-388-7578 to inquire about availability.