Wedding Catering Austin at Its Finest
When it comes to the list of things that people are surprised that Pok-e-Jo's does, catering weddings in Austin ranks high on the list. Many people just know us as a BBQ restaurant, but if you dig a little deeper, you'll see that we clean up very well and can hang with some of the highest end wedding caterers in Austin. Don't believe us? Head over to our gallery page to check out some pictures, or check us out on The Knot and Wedding Wire to hear from the numerous brides and grooms whose weddings we've catered in the Austin area.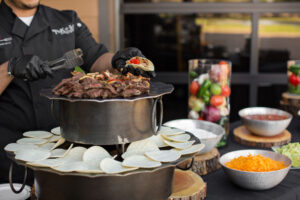 Appetizers, bar service, buffet style meals, stationed menus, family style, and more. If you name it, chances are we've done it at a wedding and can do it again for you. After all, there were more than 350 weddings that we catered in Austin last year alone!
When you're looking at options for wedding caterers Austin, there are a lot to choose from. Contact our wedding specialists, schedule a tasting, and come see what's made us the top of the heap!