PoK-e-Jo's Off-the-Menu Recipes: Sausage Fajitas
Have you ever wondered if the staff members at Pok-e-Jo's ever get tired of the food? I bet you have, because I know I've been asked that question numerous times. Well, the answer is, "Never!" but that's because a lot of times, we are cooking up new dishes with our ingredients to use in a fresh and interesting way! This post will be the first in a sporadically occurring series exploring these kitchen creations and how you can make them at home with our products! Today we will tell you how to use our beef sausage to make a delicious version of that Tex-Mex staple, fajitas.
To make about 10-12 Sausage fajita tacos you will need the following:
1 lb. Pok-e-Jo's Original Beef Sausage, sliced. (make sure the sausage is still hot, either directly from the restaurant, or reheated.)
1 yellow or sweet onion, cut into strips.
1 green bell pepper, cut into strips.
1 red bell pepper, cut into strips.
1 doz. flour tortillas
1 tsp. ground cumin
Cooking Oil
Optional Condiments
Shredded cheese
Guacamole
Pico de gallo
Picante sauce
To prepare:
Cut vegetables into strips and toss lightly with oil (or melted butter!) and the ground cumin

Heat 1 Tbsp. Oil in a heavy skillet, add vegetables and sautee for 3 minutes

Add the sliced sausage to skillet with vegetables, cook for 3 more minutes or until sausage is hot and

Portion into tortillas and serve!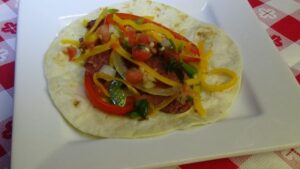 See? It's that easy and a delicious twist on a classic dish! Try it out and let us know how you like it!