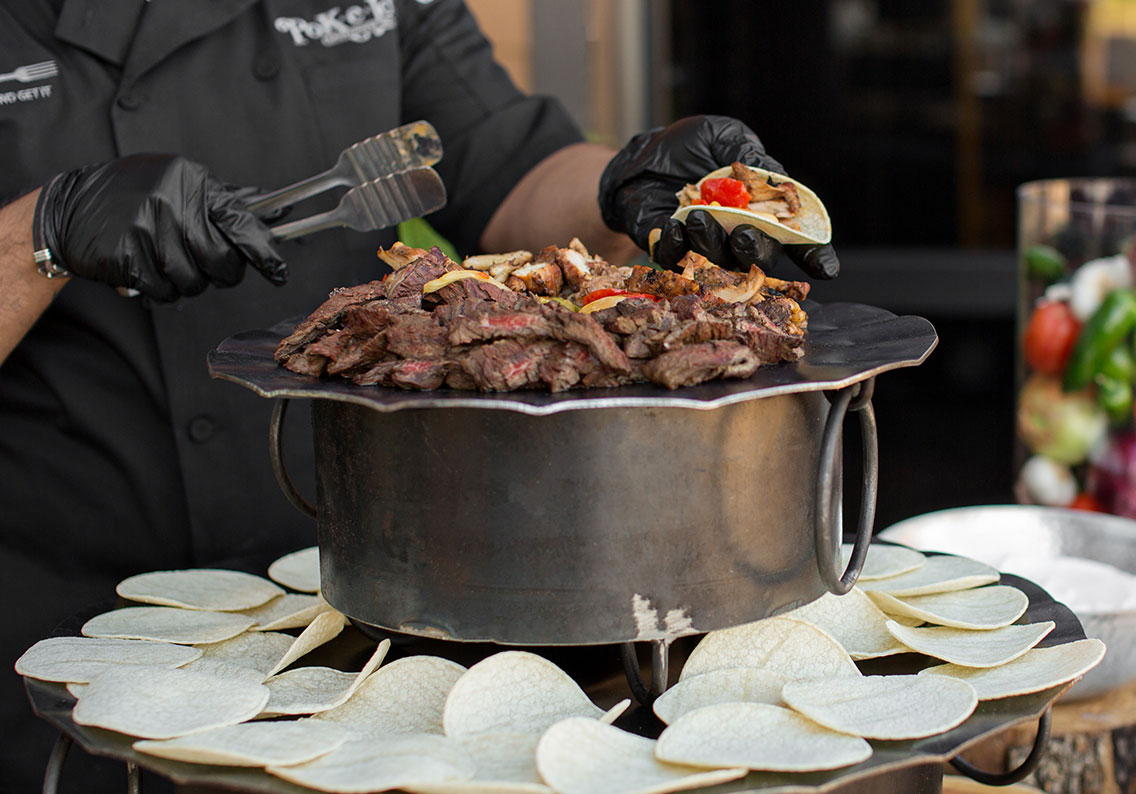 Places that cater near me in Austin will not offer a Fajita Bar – Pok-e-Jo's Does!
Fajita Bar? Yes, Fajita Bar.
Places that cater near me in Austin might offer your typical catered menu – like sandwich rolls with ham and cream cheese nicely dressed in a circle of lettuce with pickles and tooth picks. But wouldn't it be better if that place catering near you offered a Fajita Bar? Yes, we said "FAJITA BAR." That sounds pretty amazing.
But what is a Fajita Bar?
That would be Pok-e-Jo's famous fajita catering – a fully functioning Fajita Bar set up at your house party, wedding party, or business luncheon. Beef and chicken fajitas, smoked onions and peppers, chili con queso, fresh guacamole, Spanish rice, spicy borracho beans, warm flour tortillas and all the fixin's, set up for the perfect fajita feast. Pok-e-Jo's may be known for bar-b-que, but you should check out these fajitas. We take butterflied skirt steak, plus chicken, and marinate. Then we smoke them for 2+ hours for a taste you just can't get anywhere else. That's how a smokehouse does fajitas. Don't forget, we throw in some fresh pico de gallo, sour cream, and Pok-e-Jo's own house-made salsa with crispy, house-made tortilla chips. Places that cater near me in Austin never served up the ultimate Fajita Bar like this.
Pok-e-Jo's catering menu also the best BBQ Buffet you'll ever enjoy, with your choice of 2 or 3 smoked-to-perfection meats. Choose from beef brisket, chicken, turkey breast, pork ribs, spicy Texas pulled pork, and Pok-e-Jo's sausage. You'll also get some of our famous sides, like jalapeño cornbread casserole, fresh sautéed veggies, macaroni-n-cheese, potato salad, among others. Top if off with fresh-brewed ice tea and white chocolate chip macadamia nut cookies and you've got a catered celebration to go.
We've also got options like a Baked Potato Bar or BBQ Sandwich Buffet. And each option can be ordered as a pick up, delivery and set up, or full service catering. Check out our catering menu online: https://pokejos.com/wp-content/uploads/2018/07/Catering-Menu.pdf
Pok-e-Jo's is the place to find places that cater near me in Austin. Smokin' it slow. Servin' it up fast.