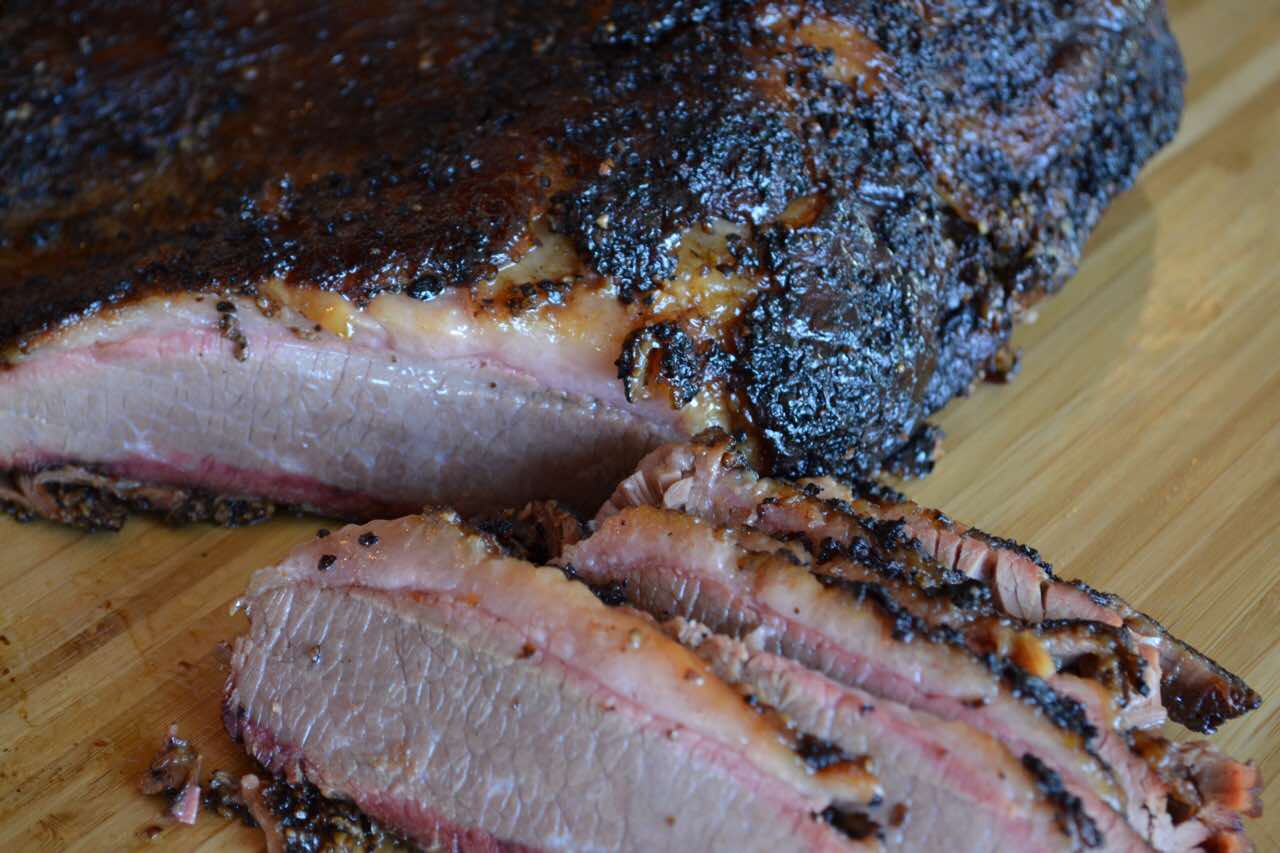 Brisket: A Texas (and PoK-e-Jo's) Tradition
A few facts about Texas: our summers are hot, our chili ain't served with beans and our BBQ is built on brisket. Pok-e-Jo's has been serving up traditional Texas BBQ since 1979, which means we've been smoking briskets for 36 years now and we've gotten pretty good at it too.
Our briskets are smoked in-house every day of the year at each of our locations so no matter which Pok-e-Jo's you visit, you're always getting high quality, hand crafted brisket made lovingly by one of our pitmasters. Our briskets are smoked uncut and untrimmed with no sauces or fancy mixes, just a black pepper dry rub that goes on before smoking and then we let the smoke do the rest. We cook our briskets for 14+ hours before they get trimmed and sliced up on the line to ensure that every slice is tender and has the taste of Texas in every bite.
If you've ever had brisket, you know that it has several different cuts of meat and that some are leaner than others. We serve 3 cuts of brisket at Pok-e-Jo's: The Lean, The Moist and what we call "The End Cut". The lean cut is the largest and has the least amount of fat or marbling (as you might of guessed by the name). This is the cut that most folks think of when they think of brisket and though it is lean, it is not lacking in tenderness and smokey flavor which is why it is our most popular cut. The Moist cut, also known as The Crown, Marbled or "That Good Part" is the upper cut of brisket and the meat has the most fat surrounding it before trimming so it retains much of the moisture and tenderness. However, this cut also has the highest fat content which may not be desirable for some. For others though, this cut is highly sought after and is the only cut of brisket there is! The third cut or "End Cut' is a part of the brisket where the lean and the moist meet, and as such the meat is both tender and juicy like the moist but has a lower fat content more akin to the lean cut. We typically use this meat to make our Chopped Beef as it is a nice marriage of the two main cuts of brisket. If you're not sure which cut to order or would like to try any of them, you can always ask for a sample from any Pok-e-Jo's team member and they will gladly get you a sample of one, or heck try all three! Here at Pok-e-Jo's, we offer up any cut, or combination of cuts, of brisket when you order with no extra fee 'cause everybody has their own preference, and we think we've got a cut of brisket for just about everyone.
We offer up our brisket on plates, sandwiches, salads, on potatoes or just by itself 'cause, let's face it, it's the star of BBQ. Come on in to any Pok-e-Jo's today and try out our take on Texas' tastiest tradition!