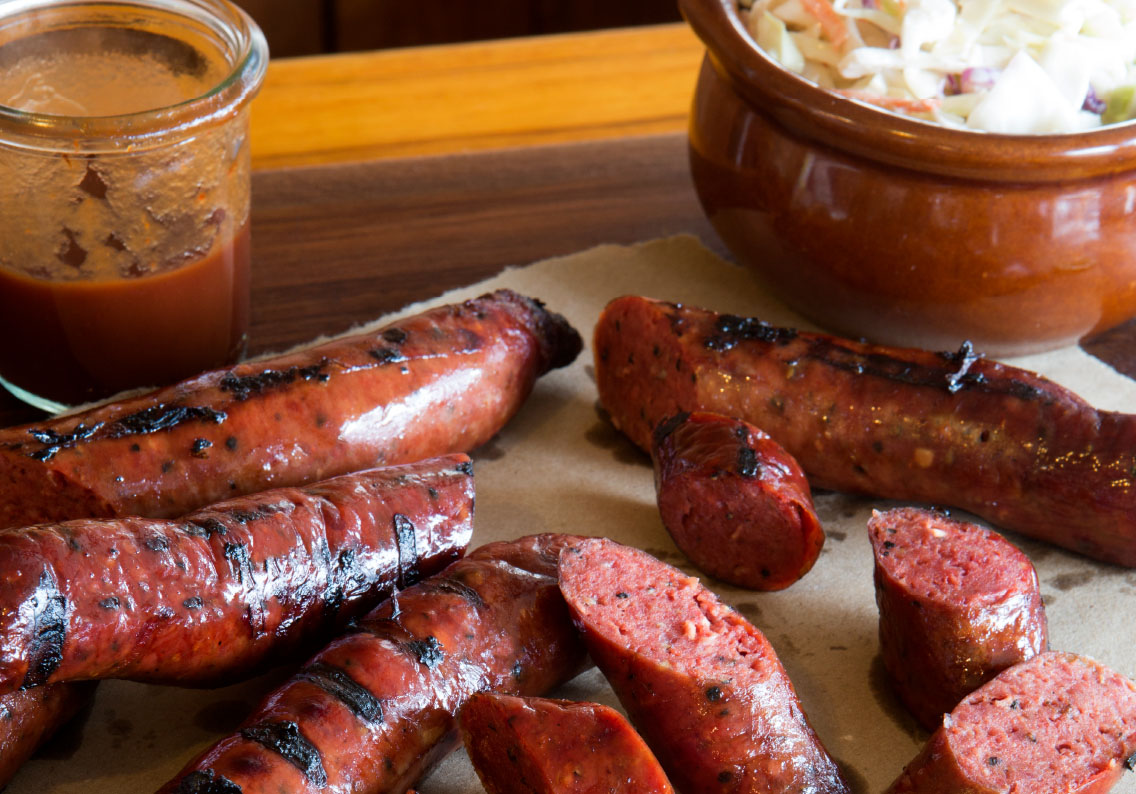 BBQ RESTAURANTS NEAR ME IN AUSTIN
When looking for bbq restaurants near me in Austin, you'll have a lot of places to choose from. Some get all the press, rightfully so or not. And some don't. There is some darn good bbq in Austin. Some of the best bbq in Texas, or the world for that matter. We are certainly lucky.
But you've got a few things to think about when choosing the right bbq restaurants near me in Austin. First, how long do you want to wait in line? Just how good do you think that bbq is going to be? At Pok-e-Jo's, we think you're going to find our bbq some of the best you've ever had. And we take a long time smoking our bbq, because that slow cooking on the coals is what gives bbq such a great flavor. But you don't usually have to wait in much of a line at Pok-e-Jo's. We're smokin' it slow, but servin' it up fast, because you just don't have that kind of time to wait in line for food. Just walk up to the counter, pick out your meats, choose your sides, and get ready to eat. Unless you picked the fried okra, because we make that fresh to order.
When it comes to time, also ask yourself, how far do you want to drive to enjoy some delicious bbq? While a day out in the country is nice when you've got the time, what if you've just got a lunch hour? Pok-e-Jo's has your bbq time-crunch solved, because we've got 5 Pok-e-Jo's bbq restaurants spread throughout Austin. We're in Round Rock, north Austin, in the Arboretum, Hancock Center off IH-35, and down south in Brodie Oaks. So, wherever you are in Austin, you can probably make it to Pok-e-Jo's for a delicious BBQ lunch on any schedule.
Finally, when thinking about that bbq lunch or dinner or take out, what do you want besides just the meat? Pok-e-Jo's has some of the best beef brisket you've ever had, plus our own Pok-e-Jo's sausage, turkey, chicken, smoked pork ribs, and pulled pork – it's all amazing. But it's the sides that make the Pok-e-Jo's bbq experience so unique. We've got more than the expected pinto beans and coleslaw you find at most bbq joints. Try some jalapeño corn bread casserole, or baked potato casserole, or our fresh fried okra, and you'll never think of side orders as "sides" again. You can also go healthy with a green salad, broccoli salad, or fresh sautéed vegetables. And with all those calories you save, try some peach cobbler.
So, when you need to find bbq restaurants near me in Austin, fear not, Pok-e-Jo's is here.