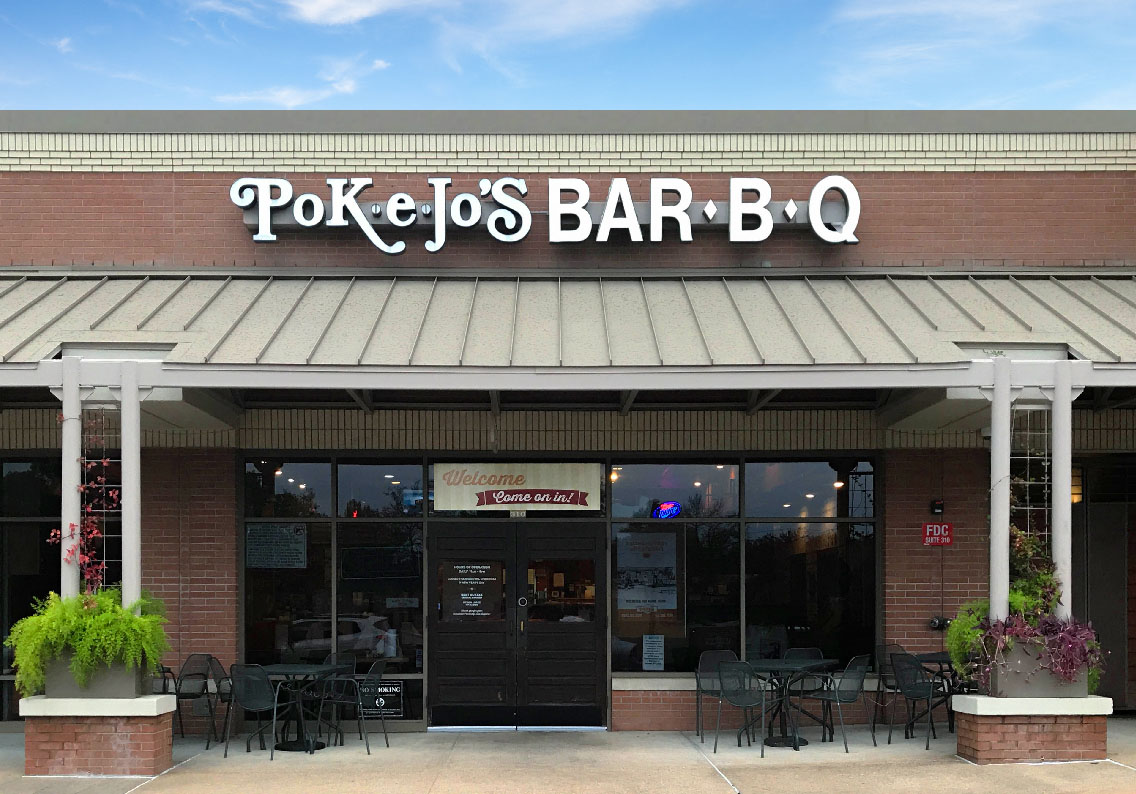 BBQ Restaurant Near Me in Austin
Wherever I am during my day, there is always a BBQ restaurant near me in Austin…Pok-e-Jo's! There are currently 5 convenient locations, plus a sixth on the way. Pok-e-Jo's is definitely a "go-to" choice for BBQ. You don't have to drive an hour to visit, but you always get delicious bar-b-que, smoked slow and served up fast.
We don't want to "knock" driving out of town to eat some good BBQ. We're all-in for that as well. Sometimes we like to try something new (or more likely not new), at a shack outside of town as well. It can be really good. But when it's time for your lunch hour, or you want to grab a meal with the family, or pick up some BBQ on your way home, you need a BBQ restaurant that is a lot more convenient for your life, and still really good. That's where Pok-e-Jo's comes in…barbecue as good as it gets, near you in the greater Austin area.
Down south, get your fix – and fixin's – at Pok-e-Jo's in the Brodie Oaks Shopping Center. You can see it from the fly-over at Lamar and Ben White. It's a free-standing restaurant located in that shopping center. Close enough to just about anywhere in south Austin.
In Central Austin, come see us at Pok-e-Jo's at Hancock Center. Hancock is just off IH-35 at 41st Street, in the center with HEB and the big Twin Liquors. So, grab your bottle, grab your groceries, and grab dinner to bring home from Pok-e-Jo's.
If you're in northwest Austin, stop by Pok-e-Jo's in the Arboretum at 9828 Great Hills Trail. That's just west of Highway 183, in the shopping center that's right on Great Hills, in front of the Regal Arbor theater, and next to everything else.
When you're in north Austin, off MoPac, maybe in the Domain area or even a short drive from Pflugerville, head to the Pok-e-Jo's at 2121 Parmer Lane. There's super easy access coming from Metric, MoPac, or IH-35.
Finally, way up north in Round Rock, Pok-e-Jo's is a mainstay of the BBQ community. Visit us right off the freeway at 1150 North IH-35, north of 71 near Gattitown.
We did mention a sixth new location that is coming soon! That's the new Pok-e-Jo's in Georgetown, so stay tuned for more info on that far north, Georgetown (south Dallas) location.
Never fear, there is always a BBQ restaurant near me in Austin, thanks to Pok-e-Jo's Smokehouse.